Florida is among the top destinations in the US. Equally adored by families, individual travellers, and retirees, this federal-state offers dozens, if not hundreds, of beautiful destinations. But even if you go on a very long vacation, you'll hardly be able to see a fraction of these places, so narrowing down the list of places to visit in Florida is a must before you hit the road. With this in mind, we've prepared six top RV parks for Florida visitors who come here by car or decide to rent a free campervan. 
Bahia Honda State Parks in the Florida Keys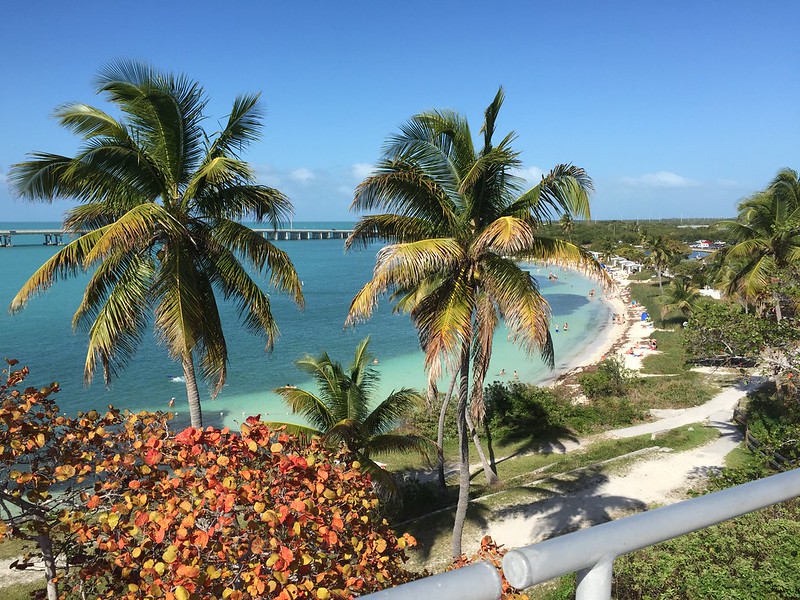 One of the most attractive locations in the Florida Keys, Bahia Honda State Park offers a wide range of activities. You can go snorkelling, paddling or kayaking, in addition to swimming and diving in azure ocean waters. For families that are planning a longer stay, it's good to know that this camp works seven days a week. Equally important, this camp has restaurants and shops so you don't have to worry about the food. The exact location is Mile Marker 36.8, on the Big Pine Key. 
Fort de Soto Park in St. Petersburg
Fort de Soto Park represents a wonderful combo of entertainment park, RV camp, and ocean resort. Like many other destinations in Florida, it's a perfect choice for every family. It exhibits exciting wildlife and interesting architecture. For instance, here you can the Sunshine Skyway Bridge, well-known as being one of the most impressive cable-stayed bridges in the world. As for swimming and family fun at the beach, North Beach in Fort de Soto is chosen as one of the top beaches in Florida by the readers of Parents magazine.
Juniper Springs in Ocala
Florida isn't only beautiful resorts and camps along the Florida Keys. It has numerous inland destinations, ideal for families and campers. Juniper Springs National Recreation Area in Ocala is such a place. From the well-organized campground surrounded by lush woods to walking trails and cycling lanes to crystal-clear springs, this place is like a Floridian Garden of Eden. Parents and older children shouldn't miss the Juniper Run, a unique 7-mile paddling run. The easiest way to get here is to find a free transfer car and drive from Orlando to Ocala. It's a bit more than a one-hour drive.
Fort Pickens in Pensacola
From the abundant groves and forests of North Florida, we're moving eastward, along the Gulf of Mexico coastline. Fort Pickens is only 75 miles away from Mobile, Alabama, situated on the Gulf Islands National Seashore – i.e. on Santa Rosa Island. This place will give you a mixture of fun water activities and history. It's an Aquatic Preserve so children will like Fort Pickens for the variety of sea animals. While here, don't miss to take your kids to the Pensacola Lighthouse in Pensacola Bay.
Florida Caverns in Marianna
In addition to the expected sea experiences the Gulf of Mexico and the Florida Keys, Florida is a place where you can see caverns and other features typical for mountainous regions. Florida Caverns, situated in the Marianna District, it's a magnificent place where you can visit dozens of caves. A display of stalactites, stalagmites, as well as biking and hiking trails, represent a challenge for every nature-loving family.
Children might want to try equestrian camping, while adults can try how good they are at playing golf.
Disney's Fort Wilderness
Most probably the top Florida destination for families with toddlers and young children, Disney's Fort Wilderness Resort offers a vast array of fun activities. From inevitable theme parks and polls of all sorts to canoeing and horse riding, it's a place for the entire family. Adults can indulge in archery and wagon rides, to try some genuine things from the past, as well. If you're into fishing and other similar activities, there are many options for this kind of fun, as well.
Florida is one of the most interesting places for family vacations in the US. Families from different parts of the country come here to swim in the azure waters of the Florida Keys or walk through the lush forests of the Florida inland. Our two cents: organize a car trip around this wonderful state and put the places from this guide on your itinerary. You'll see a huge variety of different places without spending a fortune on your vacations.