Things to Do in Las Vegas
Local Las Vegas secrets and how to get a free rental car with Transfercar
Las Vegas Relocation Deals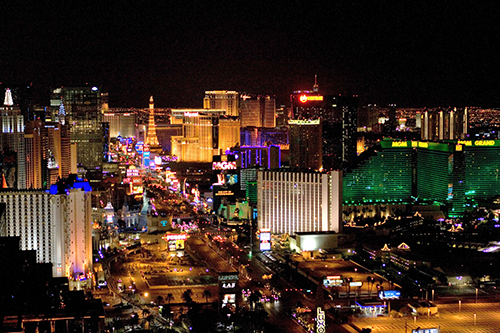 It takes a certain audacity for a city to lay claim to the title Entertainment Capital of the World. Fortunately for Las Vegas, audacity is one thing this city has never had in short supply. One of the largest centers of legal gambling on Earth, Vegas is justly renowned for its fantastic resorts and the otherworldly nightlife along the "strip", as the main entertainment district has come to be known.
Even if you're not looking for blackjack or slots, Las Vegas attractions offer an experience like none other, with each resort seeking to one-up the next with indoor theme parks, bizarre architecture and unmatched amenities. It can be a little overwhelming to try to make sense of the barrage of opportunities, sights and sounds of Las Vegas, but getting there has never been easier with Transfercar's free car and R.V. rental service. Check out the free rental cars we have available right now here.
Las Vegas as it exists today can almost be described as an accident. The city was a small town, one of many that sprang up during the construction of the railroads and then languished once they were complete, and likely would still be so today if it were not for the nearby construction of Hoover Dam, which flooded the area with workers who needed somewhere to spend their pay; followed by the 1931 legalization of gambling and major development centered around the scientists and technicians who developed the atomic bomb.
Each seemingly unrelated event built on the others to add momentum to the nascent casino industry of Vegas, which then proceeded to choke out nearly every other major gambling hub in the country. Today it reigns supreme as the battleground where major resort companies and billionaire titans of industry attempt to create the definitive, unbeatable Vegas casino experience, and all the other attractions and top things to do in Las Vegas are happy to keep up.
Places to stay (and casinos)
Much of the Las Vegas tourism is drawn by the massive resort casinos of Main Street and the Strip, which of course have their own lodging options ranging from simple if swanky hotel rooms to massive, fantastic themed suites and penthouses. If you're trying to achieve a full-immersion Las Vegas experience, that may be the way to go, but there are numerous other places to stay both in and around the strip and elsewhere in the city, so don't be afraid to expand your search to find lodging that fits your schedule, your interests … and your budget.
Since the majority of Vegas visitors arrive on Friday and leave on Sunday, expect rates to jump through the roof over the weekend, and beware of 'resort fees' and other fees not included in the base price that hotels advertise. Here's a complete list of Las Vegas hotels and casino resorts, but here are a few to get you started:
| | | |
| --- | --- | --- |
| On the strip: | Off the strip: | Downtown and elsewhere |
Search more free rental cars
Nearly all the top-billed restaurants in Vegas, including those listed here, are part of one major casino complex or another.
Although not known for the production of new plays like Broadway or London's West End, Las Vegas does have a theatrical culture all of its own, with some of the top magicians, stage performers and musicians in the world headlining shows in massive, ornate theaters all along the strip. Las Vegas is a city of spectacle, and nowhere does it show better than on stage. It would require an article of its own to list all the shows worth seeing in Vegas, and new shows are added or closing all the time, but here are a few of the better-known performances to give a taste of the range of possibilities at the different Las Vegas venues.
Las Vegas is home to some of the largest indoor theme parks in the world, and several other resorts and attractions boast world-class rides of their own. Thrill-seekers will not be disappointed by the variety of offerings or the level of intensity provided at any of these sites.
Some of these are stand-alone attractions, while others are parts of larger resort complexes; all are definitely worth a visit.
Audacity or no, there are few cities on Earth with a better claim than Vegas to the title of entertainment capital. The city is in a league of its own for gambling, of course, but even more than that, the dozens of resorts and hundreds of restaurants and attractions have something for nearly every interest. With resorts boasting attractions like indoor golf courses, waterparks and more, you can have the time of your life and find endless things to do in Las Vegas without ever setting foot in a casino hall. Start planning today to find the perfect opportunities to make your Las Vegas vacation perfect.
Avoid some travel expenses with Transfercar's free car and R.V. rental service for flexible travelers.