Things to Do in Los Angeles
Local Los Angeles secrets and how to get a free rental car with Transfercar
Los Angeles Relocation Deals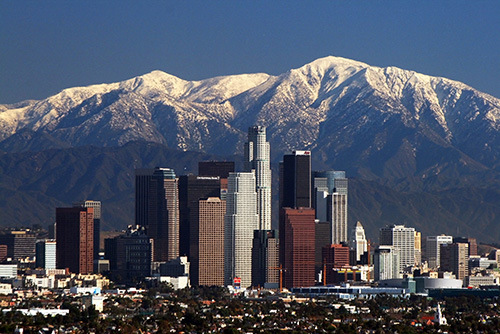 Los Angeles--The City of Angels. Few cities share such a place in the heart and soul of America as Los Angeles: a center of art, culture, innovation, history and diversity.
Renowned for decades as the home of Hollywood and the American movie industry, Los Angeles today is a sprawling metropolis called home by over 17 million people, with an economy powered by shipping, agriculture, industry and tourism. In a city stretching an hour and a half or more by car from end to end, one can find neighborhoods of every ethnicity and culture, and just finding one's way from place to place can become an overwhelming chore. That's why Transfercar's free car and R.V. rental service can help guide you to the best neighborhoods, lodging, dining, and things to do in Los Angeles. Check out available Transfercar vehicles.
Los Angeles has a long and colorful history; dating back to the original Spanish founders in the 1780s, through Mexican rule of California and finally into American possession, just in time to be incorporated five months before California became a state. Successive waves of immigrants caused the city to boom repeatedly, brought on by the San Francisco gold rush, the first transcontinental railroads, oil, and more. Each event left its own mark on the region, creating a colorful mosaic of enclaves and cultural microcosms from Asia, Europe and Africa. This diversity, the friction of dozens of cultures and ethnicities rubbing together, is what has made LA the fascinating melting pot it is today; just waiting for visitors to come and experience for themselves.
A traveler could spend a lifetime trying to see everything LA has to offer, but for those on a slightly more limited schedule, here are some of the highlights:
Hollywood
Although often spoken of as a separate city, Hollywood and the heart of the American movie industry have always been a part of Los Angeles. Between the entertainment landmarks on Hollywood Boulevard, the shopping centers of Melrose Avenue and the nightlife of Sunset Boulevard, you'll not lack for things to see or do here. Although her fortunes have waxed and waned over the years, and though most of the movie studios that made her great have moved to other cities, Tinseltown remains the undisputed center of American entertainment and the one place that no visitor to LA can ever afford to miss.
| | | | |
| --- | --- | --- | --- |
| Places to stay | Places to eat and go out | Places to see | Things to do |
Article continues below...
Search more free rental cars
Downtown
Hollywood is among the most famous Los Angeles attractions, but it's far from the only place worth a visit. The downtown sector, one of the capitals of the world economy, was once a run-down wasteland that never fully recovered from the rise of the automobile. However, in recent decades, downtown LA has seen a resurgence; and now boasts some of the best museums, art galleries, architecture and entertainment on the West Coast. Be sure to spend some time walking or driving about this vibrant center of trade, commerce and culture to get the most out of your Los Angeles stay.
| | | | |
| --- | --- | --- | --- |
| Places to stay | Places to eat and go out | Places to see and things to do | Architecture |
Eastside
The district known as Eastside is hard to define and even harder to describe. Roughly encompassing the neighborhoods of Los Feliz, Silverlake, Echo Park and MacArthur Park, this region has seen rapid change in recent years; with young adults beginning to live closer to the city center and trendy, upscale restaurants and boutique shops springing up to meet them. The area includes a number of spots made famous by different movies and actors as well as activities and sights for the whole family to enjoy. Budget conscious travelers should take particular note of the huge diversity of cuisine available; and at far more affordable rates than one would find Downtown.
| | |
| --- | --- |
| Places to eat and go out | Places to see and things to do |
You'll never run out of things to do in Los Angeles. Whether you're a cinema bug come to visit the Mecca of moviemaking, an artist or musician in search of the best the West Coast has to offer, or a foodie on the hunt for the next big entree, you'll not leave LA disappointed. The very soil of the Los Angeles Basin is saturated with centuries of history, of the creativity, determination, and vision that has made this the second-largest city in America.
If you're travelling to Los Angeles from any major U.S. city, check out Transfercar's free R.V. and car rental service to find out more!